A data source in Kst is simply a supported data file. Currently, Kst supports ASCII text files, dirfiles, and NetCDF, for vectors and scalars, and FITS images, BIT image streams, 16 bit TIFF images, and any image format supported by QImage, (jpg, png, bmp, etc) for images.
The following concepts are important in understanding how Kst works with different data sources. Some terminology is also introduced in this section.
Kst is capable of reading vectors from a wide range of ASCII formats. As long as the data are in columns, and as long as each non-comment row has the same number of columns, Kst can probably read it.
Consider reading this simple ASCII csv file: each comma separated column represents a field.

Length,Width
m,m
1.1,6.2
2.4,9.3
4.3,4.7
5.2,8.8

When you enter an ascii source into a data source selection widget (such as on the first page of the data wizard) the file will be identified as an ASCII file, and the Configure button will be enabled, as shown below.

Clicking on Configure will bring up the ASCII data source configuration dialog.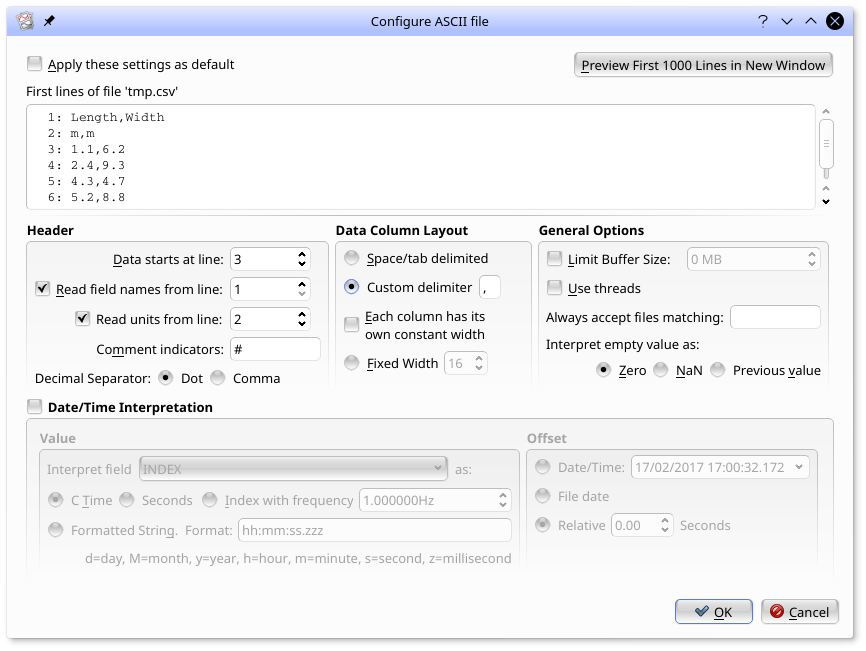 Note that the first few lines of the file are shown. The dialog in the screen shot has been filled out to read this file: looking at the first lines of the file, we see that data starts at line 3, line 1 holds the field names, and line 2 holds the units (which will be used by Kst in plot labels). Additionally, as this is a csv file, a "," has been selected as the Custom delimiter. Selecting OK will assign this configuration to this file. Kst will continue to use this configuration with this file until the configuration options are changed again in this dialog, or until Clear datasource settings in the Settings menu is selected.